How to Download & Install Psiphon on Android & iOS device.
For "Android" download and install the app from

Google Play Store

(You can get using APK File but Google Play Store is much safer).
For "iOS" download and install the app from

App Store

. (The iOS version supports on iPhone, iPad and iPod touch).
How to Use Psiphon
Open the app on your phone.
Click "Start" at the left bottom.
Psiphon will automatically launch the built-in Psiphon browser. Psiphon for Android does not automatically tunnel the traffic for the default Android browser or other apps. By default, only the Psiphon browser is tunneled through the Psiphon network.
Select "OPTIONS", then Choose "Tunnel Whole Device" or Simply use built-in Psiphon browser.
Click "Arrow" besides Select Region to choose any Country or by default Best performance is selected.
You will see "p" on notification bar on your phone and it means Psiphon is working.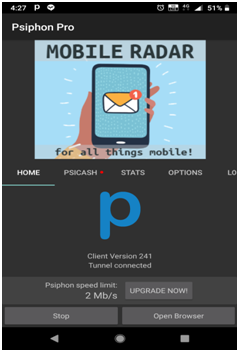 "P" This sign on notification bar Indicates psiphon is running.
Home Tab is selected. Various Tab to choose from for your requirement.
P Grey: connecting.
P Red: not connected.
P Blue: connected.
Shows what version of Psiphon you are currently running.
---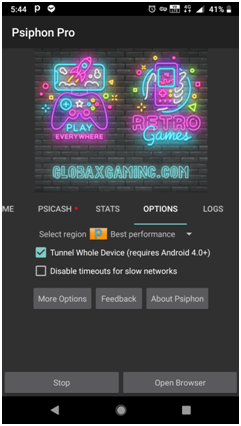 To run Psiphon in Tunnel Whole Device mode, you must have Android 4.0+ or a rooted device.
And you need to check box "Tunnel Whole Device".
Or you can simply use psiphon browser.
---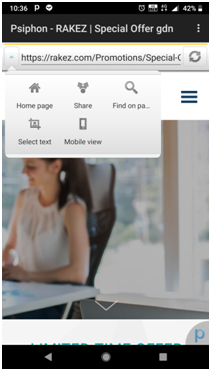 Tap on rectangle shape at top left corner to find more options like Home page and etc.
---
Tap at right hand bottom on P within grey curve to open browser option.
---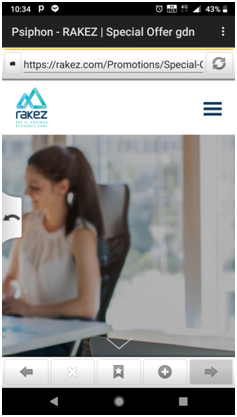 (Curved Arrow) Switch between open tabs.
(*) Bookmark current page.
---