Best Practices to make your WhatsApp Account more Secure and Private
WhatsApp is a popular messaging application, which is available on almost every smartphone and PC Operating System platform. Due to its simple and easy to use app interface and vast availability, it has become a primary messaging application for communicating with friends and family all over the world.
It is the most downloaded messaging application on PlayStore and AppStore, with over 2 Billion active users worldwide as of 2021. WhatsApp offers many useful security features but how do you protect your account that you use so often?
Here is how you can secure your WhatsApp account
1. Check Encryption for Sensitive Conversations.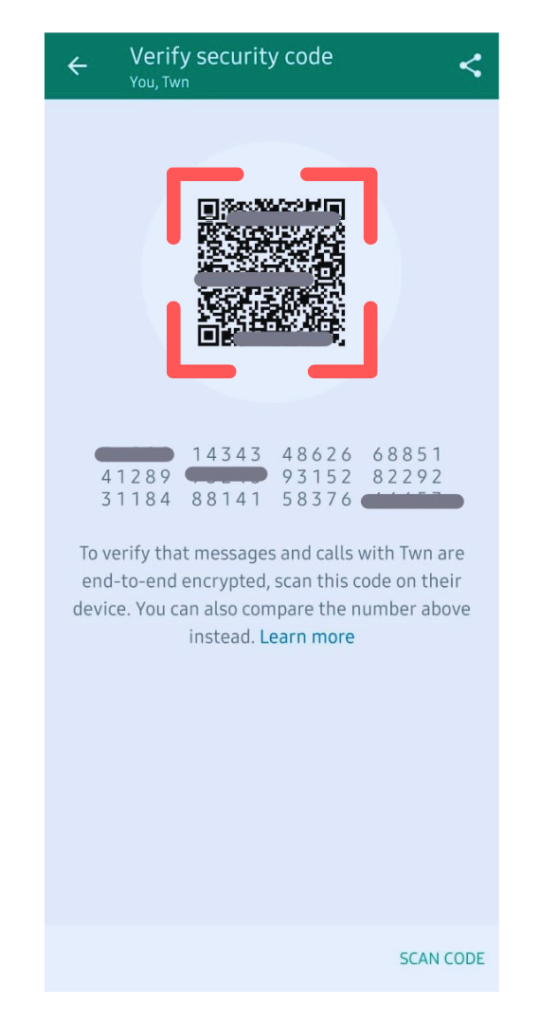 Even though WhatsApp encrypts all chats by default, sometimes you want to double-check. It's good practice to do that while sharing sensitive information like a credit card number with a trusted contact. To verify the encryption, start a conversation with that contact. In the chat window, tap the contact's name on top, and then tap Encryption.
< You'll see something like this on the left side.
This 40-digit pattern is your security code. You can verify this code manually by comparing the digits, asking the contact to scan that QR code, or scanning your contact's code with the "Scan Code" button. As security researcher Martin Shelton notes, it's best to use a different messenger to verify that these numbers match.
2. Lock WhatsApp with Biometrics.
Using a biometric like Face ID or your fingerprint to unlock the actual WhatsApp app gives it an added layer of security. Go to WhatsApp's "Settings" from the menu button "3 dots" in the top-right. Then go to "Account" and "Privacy" and enable either "Fingerprint lock" (Android) or "Screen lock" (iOS).
Once enabled, you have the option to automatically lock WhatsApp after a certain time has passed. This can range from "Immediately" to one hour. After making your choice, you'll need to scan your fingerprint or face to open WhatsApp when you've been idle.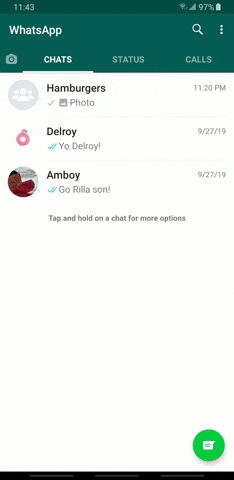 3. Enable Two-Step Verification.
Two-step verification is an optional feature that adds more security to your account. When you have two-step verification enabled, any attempt to verify your phone number on WhatsApp must be accompanied by the six-digit PIN that you created using this feature. This ensures your data isn't accessed by someone else
To activate 2FA, go to Menu > Settings > Account > Two-step verification > Enable. Follow the steps to create a six-digit PIN code that you can easily remember. Importantly, add your email address to retrieve that code in case you forget it or you can skip it.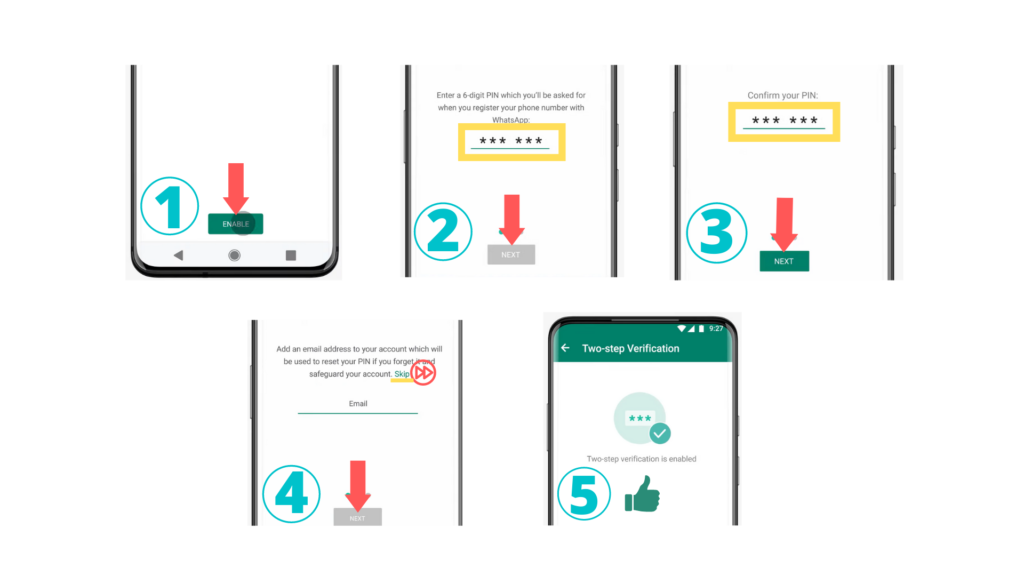 The periodic checks for the passcode are randomized, so it's not exactly the same as password-locking your chat. But that's not 2FA's purpose anyway. The purpose is to stop someone else from accessing your WhatsApp account without your consent. It's truly one of the best new WhatsApp features, and even available on WhatsApp Web.
4. Set Your Notifications to Private.
Notification previews are a great way for you to view and reply to WhatsApp messages on the fly. This feature can be a nightmare when it comes to privacy, however, as it also allows for other people to view incoming messages over your shoulder, so you might want to turn the feature off to avoid potential headaches.
Go to WhatsApp –> Settings –> Notifications if you're using an iPhone. From there, you can disable "Show Notifications" by tapping their corresponding toggles for both the "Message Notifications" and "Group Notifications" sections. If you still want to be alerted but want to hide the preview, hit the toggle next to "Show Preview" to turn the feature off. If you're on Android, on the other hand, head to WhatsApp –> Menu button "3 dots" –> "Settings" –> "Notifications"–> and once inside the "Notifications" page, toggle off "Use high priority notifications" tabs that are found within the "Message notification" and "Group notification" sections. From there you can disable preview of notifications that appears at the top of the screen.
5. Block People.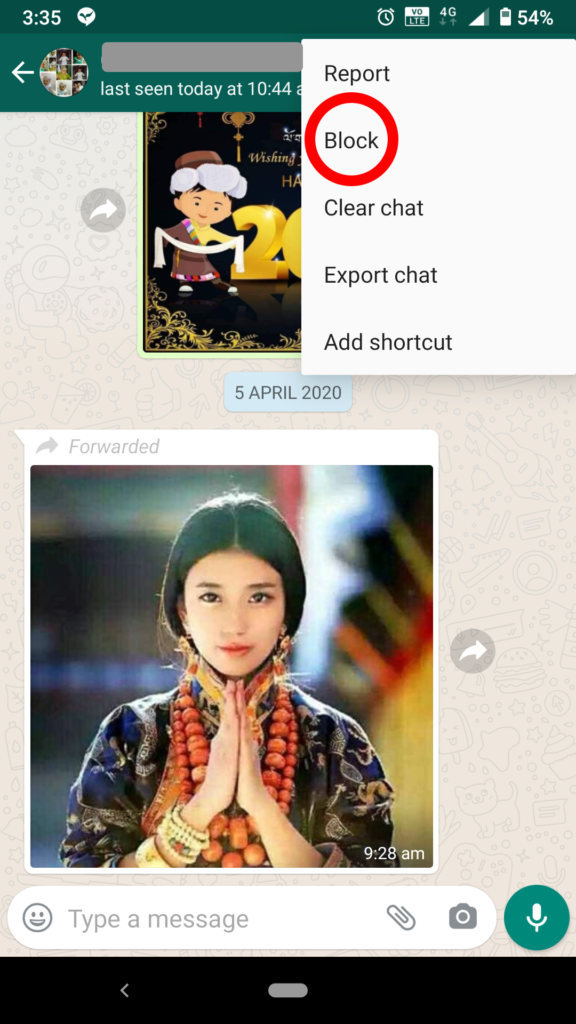 Harassing messages come in many forms, from annoying solicitations that waste your time, to downright terrifying threats that can ruin your day. Fortunately, WhatsApp lets you block undesirable people from further sending you harassing messages to keep your privacy, not to mention sanity, relatively intact.
Blocking a contact on iOS, tap on the chat you wish to block, and then hit the banner along the top on the following page to get into that person's "Contact info" page, and select "Block contact" once inside. If you've received a message from someone not in your contact list, the option to block the number will appear within the conversation page itself for you to tap on. Blocking a contact on Android, first search for the account you want to block and then open chat page. On chat page, tap the three-dot menu icon on the upper-right. Hit "More" on the overlay that appears, and then select "Block" on the following popup. However, you can instantly block a sender straight from the conversation page if the person is not in your contact list.
6. Limit Visibility / Protect Your Privacy on WhatsApp.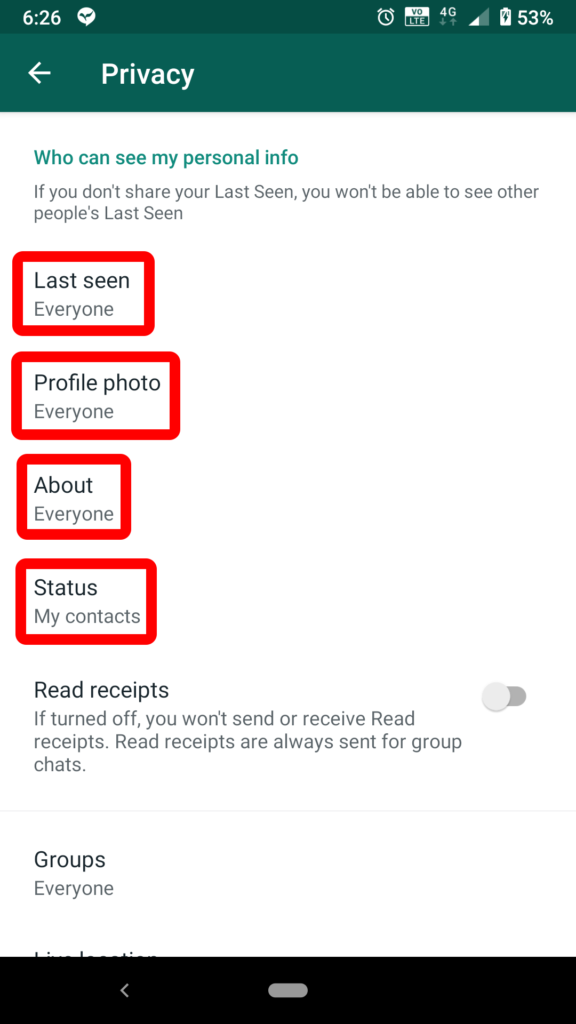 WhatsApp gives you the ability to control your online presence within the app, and set your visibility according to your personal preferences to ensure you're comfortable as far as your privacy is concerned. You can control who can see your Last Seen, profile photo, about, status, and live location. You can also turn off Read Receipts here, so the blue check marks are switched off.
There's no recommendation here, you can choose what works best for you. To learn more, here's everything you need to know about WhatsApp privacy settings and how to keep your photos safe on WhatsApp.
Navigate to either WhatsApp –> Settings –> Account –> Privacy (iOS), or WhatsApp –> Menu button –> Settings –> Account –> Privacy (Android).
From there, you'll be able to set your online visibility for the following:
7. Quickly Delete Old Conversations.
It's always a great idea to routinely clear out your WhatsApp chat logs. Not only does this clear up extra space in your phone's storage, it also safeguards you from unwanted snooping from nosy individuals out to get some dirt on you. Luckily, WhatsApp has you covered and makes data removal a breeze. The process for erasing messages in batches is slightly different for Android and iOS, but will essentially have you select chat list within the app's "Chat" page, and proceed from there to delete the chats you want to remove.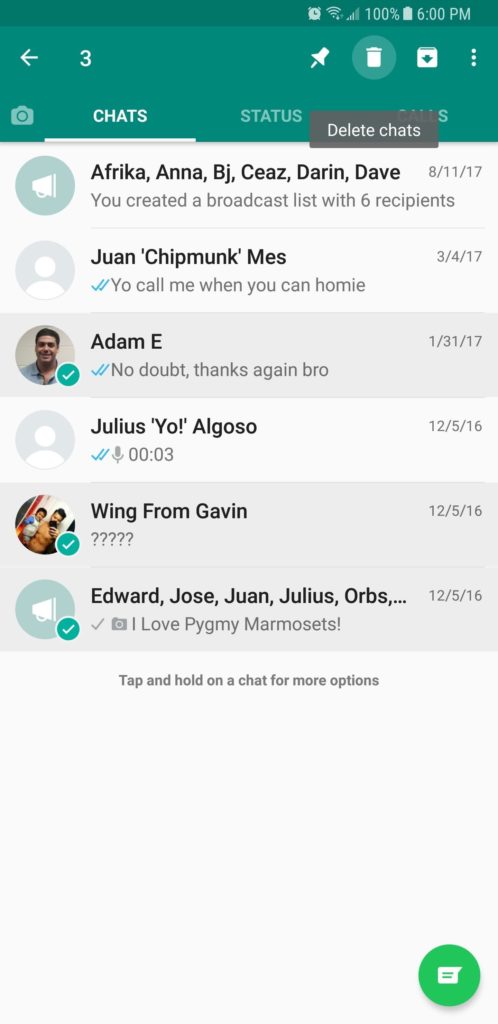 8. Hide WhatsApp Photos from Your Gallery App (Android).
If you want hide newly downloaded photos and videos from the phone's gallery. You can do it, from the WhatsApp main screen, tap the overflow icon (three vertical dots) in the top right. Next, tap "Settings," then select "Chats." Finally, make sure Show media gallery is deactivated under "Media visibility" to ensure this option becomes the default for all of your chats.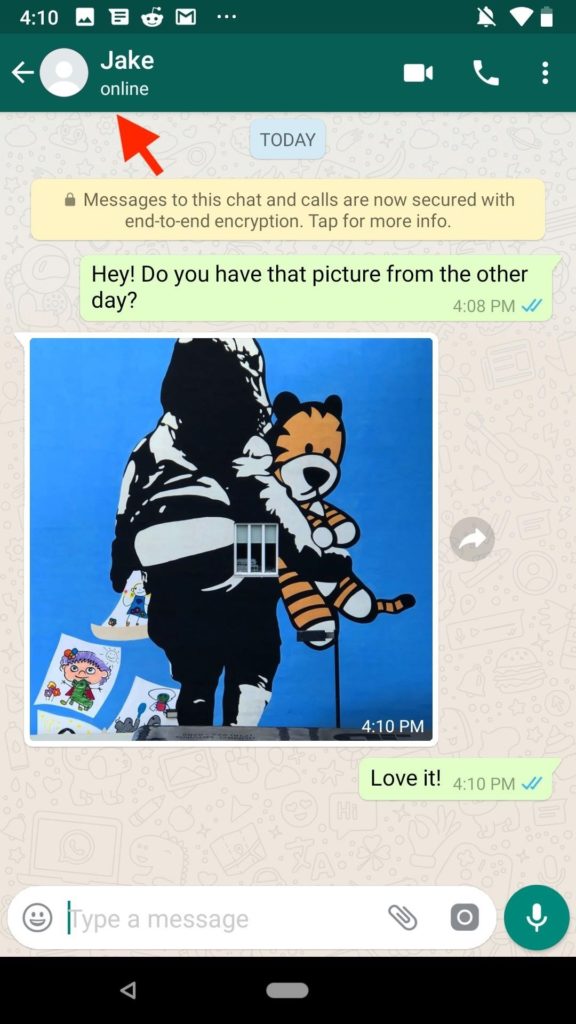 If you only want one or some of your chat's media hidden from your gallery, you don't have to rely on an app-wide setting to get the job done. You can change each chat's setting to best fit your needs. To start, enter one of your chat threads, then tap the contact or chat name at the top. Next, under Media, tap "Media visibility." You'll be greeted with three choices:
Default: This will be applied to all chat threads unless you change it. All threads, by default, will use whatever setting you have set for the whole app.
Yes: This overrides the app-wide setting to save all photos and videos to your device's default gallery app just for this conversation thread.
No: This overrides the app-wide setting to hide all photos and videos from your device's default gallery app just for this conversation thread.
9. Disable Cloud Backups (If You Care About Privacy).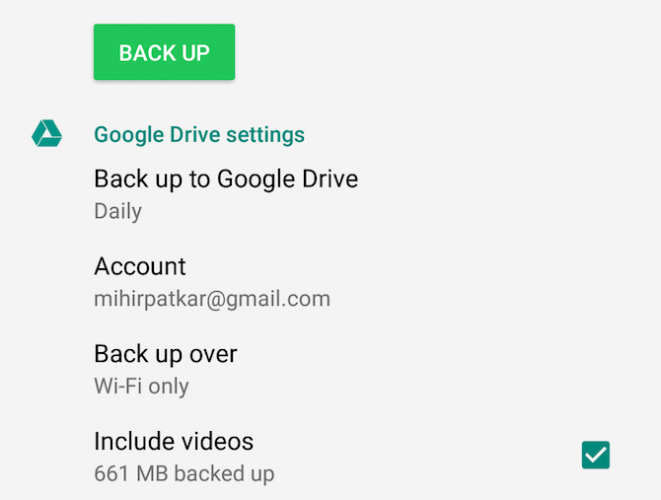 The end-to-end encryption is awesome, but there's one loophole: WhatsApp backs up chats to Google Drive or iCloud. That way, if you reinstall it later, you can retrieve your old messages. But this backup isn't encrypted.
So if you really care about your privacy, then that's something you need to disable. Remember, storing your data with Apple and Google might not protect you against eavesdropping by governments.
To disable automatic cloud backups:
On iPhone: Go to WhatsApp > Settings > Chats > Chat Backup > Auto Backup > Off.
On Android: Go to WhatsApp > Menu > Settings > Chats > Chat Backup > Backup to Google Drive > Never.
Disclaimer: If you have enabled chat backup to google drive, your chats won't be encrypted anymore. So to avoid that, just disable chat backup in the settings.
10. Read Messages Without Letting the Sender Know.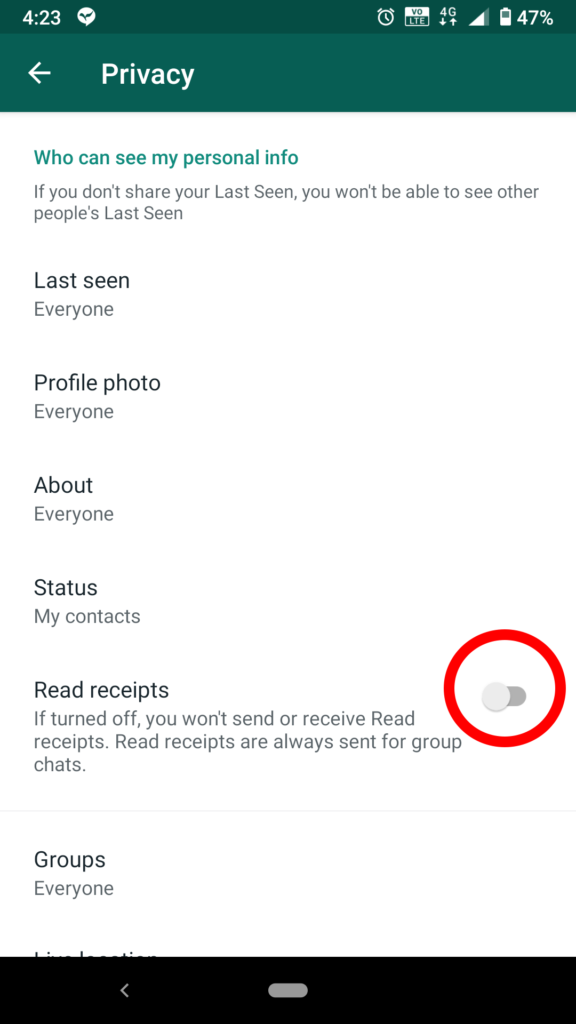 WhatsApp employs an ingenious feature to let you know if someone has read your message. These simple read receipts come in the form of a pair of blue check marks to denote their read status. However, what goes around comes around, as others are also able to see if you've read their messages.
There are numerous workarounds that you can use to view WhatsApp messages without alerting the sender, the easiest of which can be accessed by going to either WhatsApp –> Settings –> Account –> Privacy –> Read Receipts (iOS) or WhatsApp –> Menu button –> Settings –> Account –> Privacy –> Read Receipts (Android). Just keep in mind that you won't send or receive Read receipts. It's also worth noting that the feature will still work within Group chats. Apart from that, the other methods that you can employ to sneakily read messages not only work for both individual and Group chats, but also leave the read receipts feature intact so you can still see if your messages have been read. These workarounds involve either going offline or exploiting your phone's notifications, both of which we've covered in more detail in the guide below.
12. Block unwanted spams from unknown or business accounts
If someone is spamming or harassing you on WhatsApp, you can easily block them.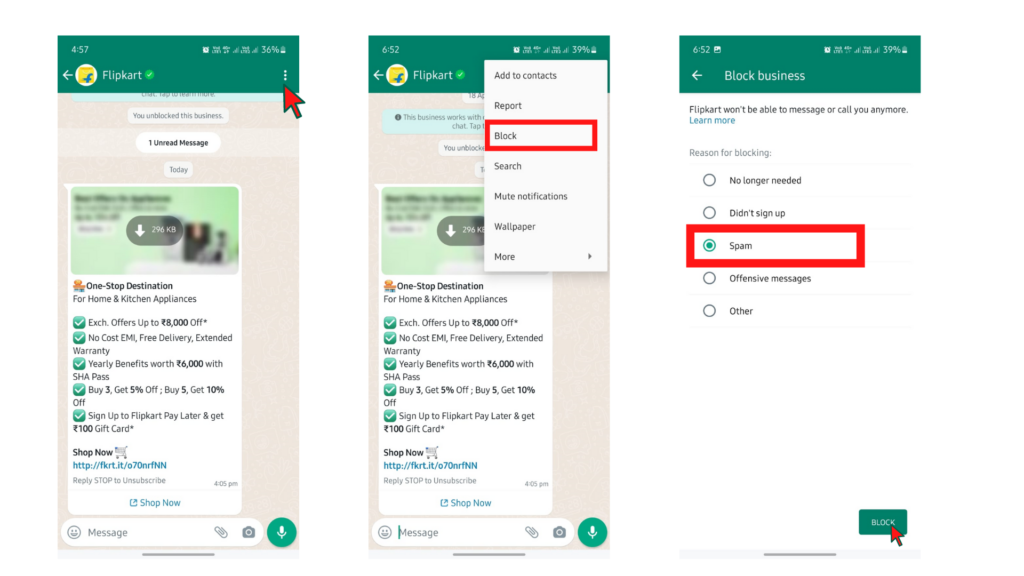 To do so, open the relevant conversation in WhatsApp, and then tap the Three dot on the top right corner-> Block->Select a reason for blocking and tap on Block.
To stay safe from any scams, just DO NOT open any links forwarded to you from an unknown contact. WhatsApp now shows frequently forwarded messages with a tag "forwarded" at the top to make it easier to spot these messages. No matter how tempting the offer might be, do not open a link or provide your personal information to any website or person you don't know on WhatsApp.